Yes, this short lesson is greatly abbreviated. There's much more than this to learn.
If You Are Interested in Knowing More About Learning Calligraphy Online...
I have created a FREE calligraphy course where you can learn at your own pace by "cyber correspondence" (using my book, e-mail, downloadable practice pagess, videos, etc.)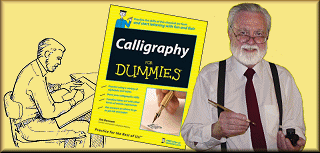 CLICK HERE FOR DETAILS ABOUT MY FREE COURSE
---
My popular, completely hand-lettered book "You Can Do Calligraphy!" is now online! This book has been in print since 1982 and has been used in several schools. It is aimed at helping the beginner. Students comment that this book, compared to the many other great books on calligraphy, makes learning calligraphy the easiest and the most fun of all! Now you can access my book right from the Internet! Learn calligraphy right online. "You Can Do Calligraphy!" will teach you how to do 5 of the most popular alphabets: Italic, Blackletter (sometimes called "Old English"), Roman, Bookhand, and Uncial (the most expressive of all). It also contains projects you can do. In 10 easy lessons, you will learn the basics so that you can progress quickly from a beginner to an intermediate calligrapher. Click here to view the actual table of contents.

Visit my store for my recommendtions for materials: books, pens, paper and pc wholesale.




Click here for information about me.


Click here to turn to the home page